Friends of the
Waccamaw Library
Friends of the Waccamaw Library
41 St Paul Place
Pawleys Island SC 29585
843~545~3387



ANNUAL and ONGOING EVENTS
1st THURSDAY ~ MONTHLY SEPTEMBER to JUNE
VOLUNTEER FAIR ~ FEBRUARY
MUSICIANS' SERIES ~ JANUARY to MARCH
CLASSIC FILM SERIES ~ JANUARY to APRIL
NATIONAL LIBRARY WEEK CELEBRATION ~ APRIL
BIG BOOK SALE ~ JULY
FALL FOWL LUNCHEON ~ OCTOBER
ANNUAL BOARD MEETING ~ NOVEMBER
HOLIDAY BOOK SALE ~ DECEMBER
SPECIAL PROGRAMS ~ THROUGHOUT THE YEAR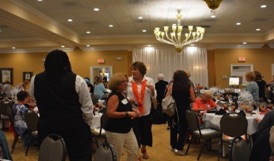 FRIENDS OF THE WACCAMAW LIBRARY
MEMBERS ONLY EVENTS
Throughout the year we hold special events for our members. Past events have included the following performances: the Youth String Trio of the Long Bay Symphony, Bill Oberst & Lee Brockington reading Holiday selections, the Pawleys Island Concert Band, and Lee Brockington's Loving the Low Country. We also hosted a cocktail party for our members in celebration of National Friends Week. New events are being planned.
Our Members Only events are open to members of Friends of the Waccamaw Library. Non-members are invited to join at the Friends Center or at the door.
Thanks to Everyone ~ Donors, Members, Volunteers and Guests who support us wth your time and money.