Friends of the Waccmaw Library
41 St Paul Place
Pawleys Island SC 29585
843~545~3387



FALL FOWL LUNCHEON 2016
'All Dolled Up"
Since 1990, the Friends of the Waccamaw Library (FOWL) have delighted library supporters with its annual September luncheon and auction. This year, the 26th year of the popular fundraising event, was no exception. Held at Pawleys Plantation on Tuesday, September 27, 2016, at 11:30 a.m., the luncheon featured delicious food, enticing vignettes, impressive auction items, and door prizes galore! Some of the highlights of the luncheon were a live auction of highly desirable items, including vacation homes/packages, home decor, a Gullah doll by Zenobia Washington, handmade quilts, etc. As always, we raffled off more than 50 carefully curated groupings, or vignettes, of specialty items, and there were over 40 exciting door prizes for a good number of lucky attendees.
Thanks to the generosity of our Friends as well as our local merchants and artisans, we were able to raise $15,000! 100% of the funds will go to enhancing the acquisitions and programs in our library.
We would like to send a special thank you to our sponsors: The Litchfield Company Vacation Rentals, The Citizens Bank, Tidelands Ford Lincoln, H. James Johnson, Jr., and Dunes Beach Home Rentals. Thanks also to Pawleys Plantation Club, under the direction of Chantell Dowell, and her outstanding staff, for a delicious lunch with gracious service.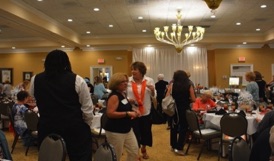 FRIENDS OF THE WACCAMAW LIBRARY MEMBERS ONLY EVENTS
'LOVING THE LOW COUNTRY' with LEE BROCKINGTON
Held on January 28th "Loving the Lowcountry" was a lecture based on being a newcomer to Pawleys Island, as Lee Brockington was in 1984. Despite being a native of Columbia, South Carolina, Lee had only vacationed at Pawleys during the summer and enjoyed only an occasional off-season visit. Moving to the area is an entirely different experience! 
In learning of the local history, Lee has been anxious to share it with other newcomers eager to learn of the history and ecology, the great men and women, of rice and slaves, but also of small stores, family traditions and great storms.
AN EVENING OF MUSIC
Our second event was held on October 19th to celebrate National Friends of the Library week. Our members were invited to a cocktail party featuring a wonderful performance by a string trio from the Long Bay Symphony Youth Orchestra. The young musicians delighted the attendees with a medley of classical songs. Heavy hors d'oeuvres and champagne were served .
Our Members Only events are open to members of Friends of the Waccamaw Library. Non-members are able join at the Friends Center or at the door.